Still haven't traveled yet? If not, then you are probably missing half of your life. According to a famous quote from Hans Christian Anderson, "To travel is to live." So, what is stopping you from living?
Cebu Pacific offers promo seat sales on selected local and international flights. Discounts on these tickets are at 50% off. Sounds like a great deal, right? Let's break it down even further.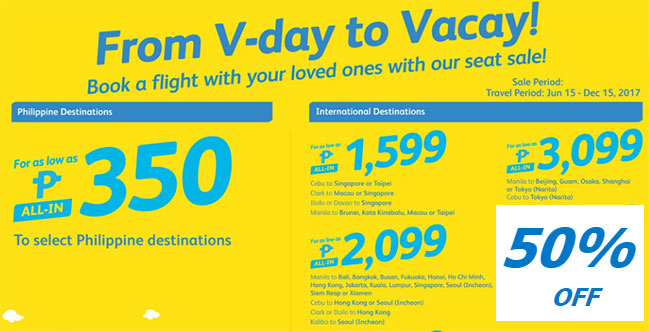 If you are from Cagayan de Oro, you could travel to Bacolod or Tagbilaran, Bohol for as low as P350- ALL IN. It is the same rate for routes from Butuan, Caticlan, Ormoc, Ozamis, Pagadian, or Tandag to Cebu and Masbate or Tablas to Manila. A round trip ticket would cost you P750. Priorities?
Your round trip tickets to those destinations would cost you five trips to the movies. You could forego watching for a few times, be cozy at home with Netflix and consider buying those tickets instead.
Skipping your favorite Starbucks coffee fix seven times would save you enough to buy round trip tickets to Cebu or Iloilo to Clark.  Cebu Pacific's promo to this destination only cost P899 per ticket.
READ: Cebu Pacific Piso Fare Promo is Back, Book your Tickets Now!
Do you really need to get yourself that new smartphone when yours is still working just fine? Why not use your savings to travel to international destinations like Bali, Bangkok, Busan, Singapore or Hong Kong to name a few?  Cebu Pacific's promo seat offer would only cost you P2,099 per ticket ALL IN.
Cebu Pacific's seat sale would only be until February 12, 2017. You could book your flights from March 1 to June 14, 2017 for the 50% off seat sale, and June 15 to December 15, 2017 for the Cebu Pacific Domestic and International Promo Fare.
Destinations and fare price are as follows:
Now, you have perfect opportunity to travel and you have been given things to consider about your priorities. All you need is courage to seize this opportunity and set your priorities. But keep in mind that opportunities pass by quickly, so you need to seize the chance!
"Travel is never a matter of money, but of courage." T.S. Elliot seems not making any sense. After all, you do need money to travel. But the thing is, what you really need are courage, priorities, and opportunities.
Book here now: www.cebupacificair.com/booking
Comments