The much anticipated Piso Fare from Cebu Pacific is finally back, and it causes a surge in the number of visitors on the air carrier's website that it even crashed. Understandably, the cheap cost of the fare for both domestic and international flights attracted numerous customers.
The promo would only last from Friday to Saturday or until seats last, so it's very important to seize the chance.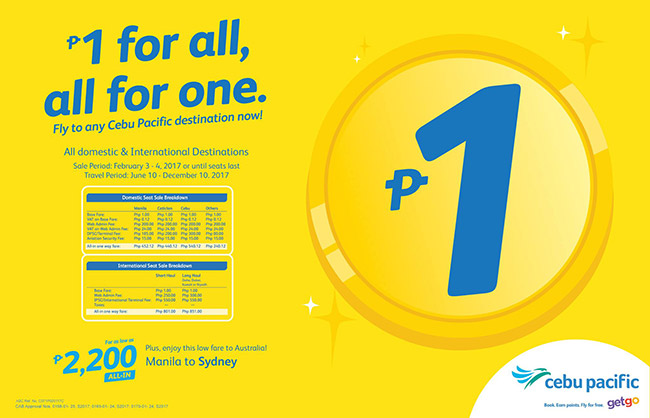 Before you start booking your flight, you need to consider the following;
Your destination, travel date (travel time), passenger's details including complete name, date of birth, email address and contact number and payment method.
You could choose if you would book a round-trip or one-way ticket and avail add-on services (prepaid baggage either small, medium, large or extra-large, pre-ordered meals, travel insurance and pre-selected seats).
You could pay using a credit card or ATM debit card, through 24 hours payment centers or pay before 11:59 of the same day of booking.
After you have decided on your flight details and have all the needed information secured, you may now proceed to the Cebu Pacific Website to book your flight.
Book Your Flights Here: www.cebupacificair.com
Remember, you may encounter slow loading and some errors due to the number of passengers trying to book simultaneously.
Important note: P1 is only the base fare for domestic flights, but you also need to pay P150 for web admin fee, 12% VAT and terminal fees ranging from P200-315 pesos. The same goes for international flights with additional costs of P150-200 web admin fees and P550 international terminal fees for flights exiting from Manila and other travel taxes.
So while booking the flight, check the prices. If it is considerably lower than the other flights, then you got yourself a promo fare. Promo seats are limited, so better check other dates when booking. The travel period is from June 10 to December 10, 2017.
Comments