As they days creep by fast, we are getting closer and closer to the end of the 2017. By tradition, we end our year flashing back the memories we made this year.
What perfect way to relive those memories by using our favorite social media platform's Year in Review? If you want to share how your year had been with your friends, Facebook's Year in Review makes you do just that.
As usual, you have the option to edit the posts and pictures that would be included in your personalized video. Take note that even posts which you have been tagged in may appear on the video.
videos will be available on December 6, some countries or accounts might be getting them later than that date. If you got this message as you visit the link, do not fret. You just need to check back after some time.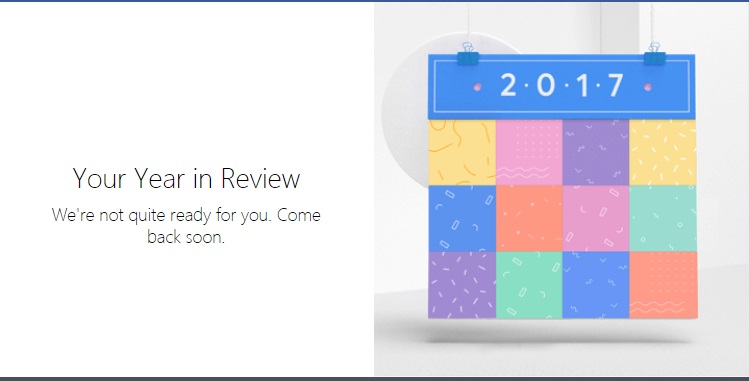 Starting on December 6, Facebook users can revisit their top moments on the platform by visiting Facebook.com/yearinreview. According to a Facebook press release, you can watch and choose to share a personalized video that will highlight the important events of you year. The chosen pictures and posts will come from the period of January 1 to December 1.
READ: Tutorial on How to Create your Own Facebook Year in Review Video
Along with the announcement of Your Year in Review, Facebook also announced the most trending moments in 2017, which highlighted both the good and bad events.

The top three moments that people all over the globe discussed in Facebook are the following;
1. International Women's Day
2. Super Bowl 51
3. Las Vegas Violence
The top three moments where people all over Facebook came to aid each other were as follows;
1. Earthquake in Mexico
2. Hurricane Harvey
3. One Love Manchester
The top two ways people connected through offline moment by creating Events on Facebook were the following:
1. Total Solar Eclipse
2. Women's March on DC
2017 surely gave us a lot of blows, but there were always good things that came out of bad situations. Enjoy your Year in Review video, and look forward to a cheerful 2018 ahead!
Comments