This year's Academy Awards has been shaped up to be a politically charged ceremony with Academy of Motions Pictures Arts and Sciences President Cheryl Boone Isaacs diversifying the membership of the then largely white, older and male film academy. Last June, the academy added 683 new members, 46% of which are female, 41% non-white, pulled from 59 different countries.
Justin Timberlake opened the Oscars with his hit 'Can't Stop The Feeling,' also a nominee for the category best original song. It was followed by this year's master of ceremonies Jimmy Kimmel's politically feisty monologue.
Meanwhile, Meryl Streep was given a standing ovation by the audience after being slammed by President Trump, calling the multi-awarded actress 'highly overrated.'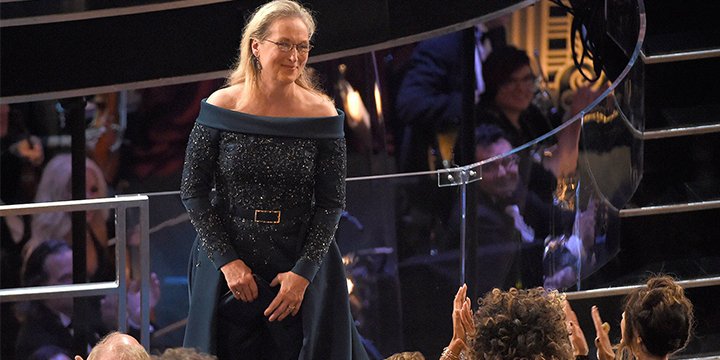 Oscars also gave tribute to 98-year old Katherine Johnson, the real inspiration for the film 'Hidden Figures.' She is an African-American physicist and mathematician who worked at NASA and made great contributions for years.
Jackie Chan received a honorary Oscar award together with Fredrick Wiseman.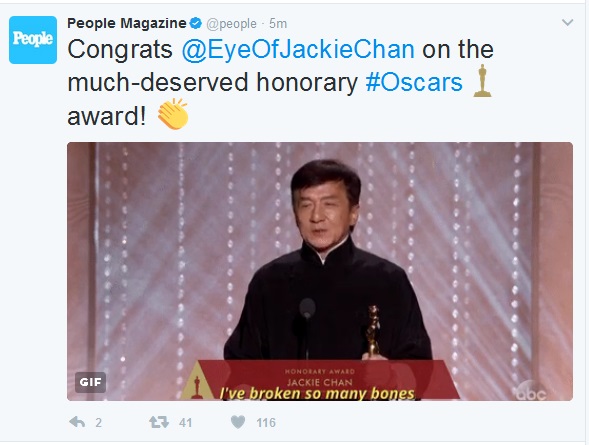 La La Land was tonight's big winner having won 6 out of the 14 categories it was nominated in. But in a surprising twist of events, the Best Picture film was awarded to the movie before it was later announced that 'Moonlight' was actually the real winner.
Here is the complete list of winners for the 89th Academy Awards:
Best Supporting Actor:
Mahershala Ali (Moonlight)
Achievement in Costume Design:
Fantastic Beasts and Where to Find Them
Achievement in Makeup and Hairstyling:
Suicide Squad
Best Documentary Feature:
O.J.: Made in America
Achievement in Sound Editing:
Arrival
Achievement in Sound Mixing:
Hacksaw Ridge
Honorary Award:
Jackie Chan
Fredrick Wiseman
Best Supporting Actress:
Viola Davis (Fences)
Best Foreign Language Film:
The Salesman
Best Animated Short:
Piper
Best Animated Feature:
Zootopia
Best Production Design:
La La Land
Achievement in Visual Effects:
The Jungle Book
Best Film Editing:
Hacksaw Ridge
Best Live Action Short:
Sing
Best Documentary Short Subject:
The White Helmets
Cinematography:
La La Land
Best Original Score:
La La Land
Best Original Song:
City of Stars (La La Land)
Best Original Screenplay:
Manchester by the Sea
Best Adapted Screenplay:
Moonlight
Best Director:
Damien Chazelle (La La Land)
Best Actor:
Casey Affleck (Manchester by the Sea)
Best Actress:
Emma Stone (La La Land)
Best Picture:
Moonlight
Comments